Gently and thoroughly cleanse your skin
100% natural and without additives, it removes the impurities accumulated during the day from your skin.
Konjac is part of a long tradition of use of over a century in Japan. It is particularly appreciated for its exfoliating and cleansing properties. This face sponge is also made of green tea powder, whose anti-oxidant and anti-bacterial properties will allow you to deeply clean while fighting against bacteria causing acne and pimples.
Konjac mannan, green tea powder, green clay, calcium hydroxide
 Certified BIO by the JAS organization
1. Soak the sponge in warm water, squeezing it gently several times. Once it is well swollen, it is ready.
2. Gently rub it over your face in circles. It can be used alone or with a cleanser.
3. When finished, rinse the sponge thoroughly and squeeze out excess water.
4. Dry it in a dry place. It is recommended to put it in a plastic box and store it in a refrigerator.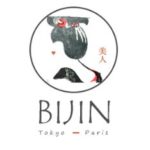 All the products are made in France, in an artisanal plant cosmetics laboratory.
The list of ingredients is minimalist without superfluous, in order to preserve the strict necessary of active ingredients and effectiveness. The composition of the products contains no parabens, no perfumes, no colorants, no synthetic agents, no preservatives…
The objective of the Bijin laboratory is to propose quality ingredients, from organic agriculture in order to limit the risks on health and to preserve all their benefit and effectiveness. 60% to 100% of the ingredients included in the compositions are from organic agriculture certified BIO by ECOCERT.